A 10 Minute Face Lift,
Naturally, Simply!
Proud to be a Shaklee Independent Distributor since 1973! Decades of Great Health for all, including Planet Earth!
The Shaklee Product Philosophy:
ALWAYS SAFE, ALWAYS WORKS, ALWAYS GREEN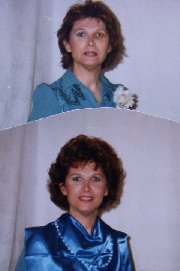 And who, you might ask, invented the 10 Minute Face Lift? Many years ago, I took a terrific course from Nevena Christi Cranny called ''Fashion Color & Image.''
During that time, she showed each of us her simple application techniques of quality, natural cosmetics, applied over fresh, younger looking skin nourished by Anti Aging Skin Care!
One of the most fun things was the Half Face technique; we applied the cosmetics to one side of the face only and then compared the two sides in a mirror....what a difference!!
Here is Ingrid, before (with half face done), then AFTER! She was in total amazement when she saw that gorgeous face looking back from the mirror......

Here is a photo of Nevena and her hubby Jack Cranny
~~~~~~~~~~~~~~~~~~~~~~~~~~~~~~~~~~~~~~~~~~
She taught us some very simple, easy, quick tips that made all the difference for each of us, whether we were interested in a simple natural look, or in a more high-fashioned look!
These techniques work for EVERYONE!!! And these Fabulous Products are for everyone too!! The Highest Quality for the Best Price on the planet!! ADDED BONUS --- they are delivered right to your door!
PLEASE remember that I am NOT a makeup artist or expert; I just love putting on the right cosmetics, with the right techniques that have worked for me. If these can help you too, then I will be thrilled!!


~~~~~~~~~~~~~~~~~~~~~~~~~~~~~~~~~~~~~~~

EYEBROWS FIRST
~~~~~~~~~~~~~~~~~~~~~~~~~~~~~~~~~~~~~~~~~~~
Easy tip for giving Eyebrows that take a natural arch, that start and stop in the right place!
Taking a glass wand, or a pencil, place the bottom end at the corner of the nose. Draw an imaginary line through the pupil, and on to the brow---THIS is where the top of the arch should be.
Next, draw that imaginary line from the nose through the inner corner of the eye, and that is where the brow should BEGIN.
Last, draw that same imaginary line from the nose through the outer corner of the eye, and that is where the brow should END.
Using a Great Eye Pencil will make a big difference!
These tips will assure your brows don't have that perpetual look of SURPRISE or FROWNING.... or all those other artificial expressions we see in brows that are not quite right!
CAREFULLY tweezing stray eyebrow hairs that stray from this ''ideal'' brow line will enhance the total look. CAUTION---do NOT over-tweeze! A slightly thicker brow is much more attractive & ''youthful'' than one that is too thin!
The 10 minute face lift is starting to work it's magic!

~~~~~~~~~~~~~~~~~~~~~~~~~~~~~~~~~~~~~~~~~~~

EYE PENCILS AND MASCARA
~~~~~~~~~~~~~~~~~~~~~~~~~~~~~~~~~~~~~~~~~~~
Occasionally, a light line of navy or teal drawn on the inner part of the upper and lower lid can bring attention to your lovely eyes; over done and it gives the raccoon look that we all know......
Often, mascara applied to the top lashes only gives a natural look and really brings the eyes into focus. This is especially good for daytime makeup. Perhaps in the evenings, mascara added to the lower lashes will give that extra zip!
Depending on the shape of the eyelids, eye shadows can highlight the eye color and the eye shape. SMALL amounts of lavender under the brow causes a wonderful illusion of brightness. Subtle olives and teals on the actual lid part over the eyeball will highlight any eye color.

~~~~~~~~~~~~~~~~~~~~~~~~~~~~~~~~~~~~~~~~~~~

CONCEALER & FOUNDATION
~~~~~~~~~~~~~~~~~~~~~~~~~~~~~~~~~~~~~~~~~~~
Should you have some blotches you'd like do diminish, a Great Concealer can be gently patted on with the RING finger. This may take several seconds; you want to have a smooth, natural look that you have achieved without rubbing your skin, rather gently patting your skin (the better we treat our skin, the longer it will be youthful and happy!)
WHY Mineral Foundations? Why Mineral Makeup? Why Shaklee Minerelles?
Micronized mineral pigments minimize the appearance of fine lines and wrinkles. Lightweight moisturizers and Vital Repair+® complex enhance skin texture and defend against the visible effects of time and sunlight.
Should you want to 'contour'' your cheeks, a tiny bit of darker foundation applied in a natural way under the cheek bone can be done first.
Often it's necessary to mix two Foundation Colors for just the right shade! It's a big help for summer and winter....a bit more of the darker foundation in summer, a bit less in the winter. Usually two good foundation colors is all you need!

~~~~~~~~~~~~~~~~~~~~~~~~~~~~~~~~~~~~~~~~~~~

THE MAGIC BLUSH SAIL
~~~~~~~~~~~~~~~~~~~~~~~~~~~~~~~~~~~~~~~~~~~
When applying
BLUSHER
, draw a TRIANGLE or Sail shape....... here's how!
Once again, draw that imaginary line from your pupil straight down to the cheekbone. NEVER put blush any farther forward than this. Blush in front of this point on the cheekbone can give the illusion of ''fat cheeks'' and added pounds.
The triangular sail shape goes from this cheekbone point directly back toward the hairline, then up to a point on the temple in line with the outside point of the eye.
When you have finished applying blush in this Sail Shape on just one side of your face, place an 8x11'' card over one side, then move to the other and see your face looking younger and slimmer.
A little dab of blush on the top of the forehead, just under the hairline, and one on the tip of the chin will add just a touch of Face Lift too!!!!
Add a little face powder to ''lock'' the foundation, and that 10 minute face lift will last all day long!!!

~~~~~~~~~~~~~~~~~~~~~~~~~~~~~~~~~~~~~~~~~~~

LOVELY LIPS
~~~~~~~~~~~~~~~~~~~~~~~~~~~~~~~~~~~~~~~~~~~
No matter what the shape or fullness ones lips may be, they can easily become just right. A light colored
blonde pencil
can make a perfect outline; lips too thin? Just pencil in a VERY slight extra fullness. If you prefer a little more color for your outline, try a
great lip pencil
.
My lips are a bit lopsided, so VIOLA, a bit of pencil and they are even! Fill in with your favorite lip color, add a little face powder, reapply the lip color, and you are ready to face the day!
And in no time it all, you have your great 10 minute face lift! All done in the comfort of your own home, with products that will actually anti-age your skin!


~~~~~~~~~~~~~~~~~~~~~~~~~~~~~~~~~~~~~~~~~~~

READY FOR ANTI AGING PRODUCTS FOR YOUR 10 MINUTE FACE LIFT?
Just visit my
10 minute face lift products
page. (AKA Anti Aging Skin Products) and click on the Anti Aging Beauty link!
~~~~~~~~~~~~~~~~~~~~~~~~~~~~~~~~~~~~~~~~~~~
Valentina's Terrific Eye Tips
Valentina has some great tips on terrific eyes; watch some of her videos and see if you can get some extra ideas to enhance your 10 minute face lift!!!!
And to quote Val, ''Makeup is NOT for super-models. It was invented for women like you and me. We are every day, busy, beautiful women with ordinary jobs and very full schedules.
We turn to makeup, not to camouflage who we are, but to BRING OUT who we are.''
REAL LIFE 10 MINUTE FACE LIFT PHOTOS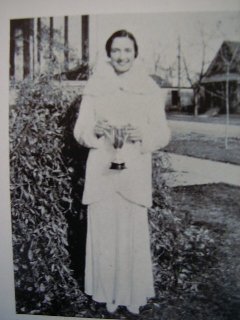 The following photos are of several of us at the Fashion Beauty and Image seminar, where we learned the 10 minute face lift techniques that serve as well today as they did 15 years ago!
Some photos will have the BEFORE, HALF FACE, and AFTER images. For the most amazing effect, place your finger over the HALF FACE photo, one half of the face at a time and watch the transformation!
You will also notice that Nevena had us wear bright happy colors.

My darling Ma, the Colorado College Homecoming Queen 1933, wore bright colors all of her entire 93 1/2 years; she just lit up the room when she walked in!!!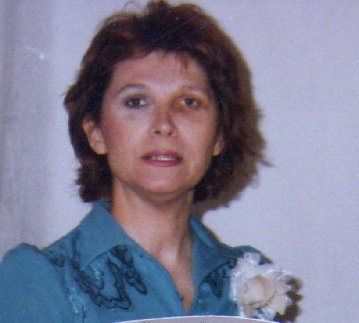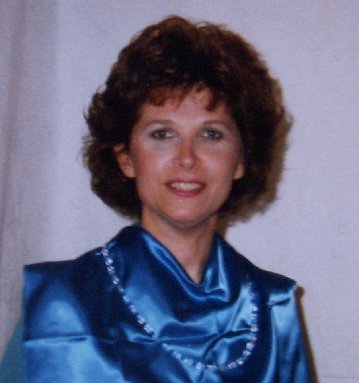 Nevena's magic on Annie 1981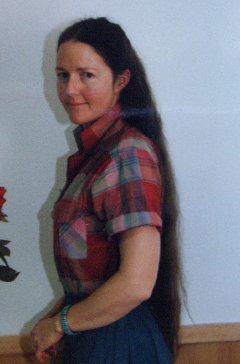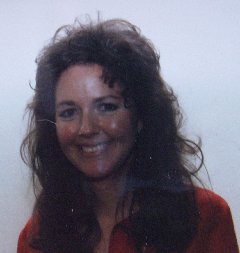 Luanne and Janice having fun! We are so thankful that the 10 minute face lift really works!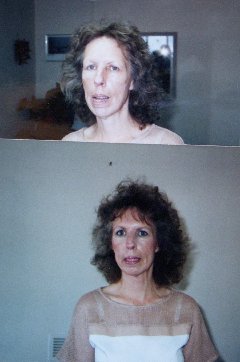 ~~~~~~~~~~~~~~~~~~~~~~~~~~~~~~~~
OK, here is Annie 2008, before, 1/2 face, and after -- taken by myself so the photos are a bit awkward but fun anyway!!! *SMILE*




~~~~~~~~~~~~~~~~~~~~~~~~~~~~~~~~~~~~~~~~~~~~
ENJOY OUR VIRTUAL CATALOG~

~~~~~~~~~~~~~~~~~~~~~~~~~~~~~~~~~~~~~~~~~
---
---
Please share your great story!!
We'd love to hear your story, do tell!!!