Baked Brie with Fig Preserves Pecans Rosemary
by Diane
(New Mexico)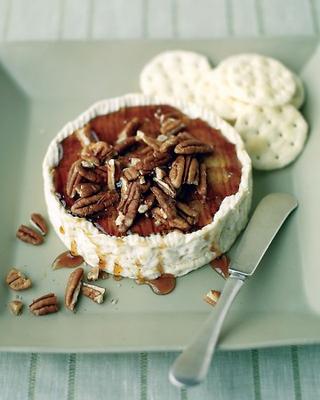 8-ounce wheel Brie cheese

1/4 cup fig preserves

1 teaspoon (or a little more) chopped fresh rosemary

8 pecan halves or a small handful of pecan pieces

Crackers or French bread

Preheat oven to 350 degrees.

If you're going to bake it in a ramekin (so it has side support), trim the rind completely off the top of the Brie. If you're going to bake it on a tray, trim the top rind but leave a 1/4-inch border around the edge.

Combine fig preserves and rosemary in a small mixing bowl. Spread over the top of the trimmed Brie.

Bake 8 minutes. Arrange pecans over the preserves and bake for an addition 5 minutes. (Or if you're using pecans that are already toasted, just put them on when you pull it out of the oven after 13-15 mins.)

Serve immediately with crackers or French bread.