Ravages of Sun Damage and Sunburn CAN be Treated
BELOVED SUNSHINE --- FRIEND OR FOE?
Little did my parents know that Sun Damage from those many hours spent unprotected from the Sun's harmful UV rays would come back to haunt them later in life. Little did they know sunburn consequences would also take a toll on their daughter's skin as she aged.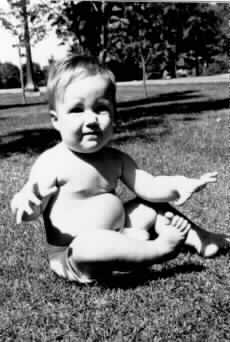 Here I am, happily playing on the lawn, out in the sunshine unprotected from those ever present UV rays.......




AND JUST HOW CRITICAL IS EARLY PREVENTION OF SUNBURN?
OF THE UTMOST IMPORTANCE!!
When i was in High School, the well-meaning dermatologist ''treated'' my acne with heavy radiation.... 25 years later, he greatly regretted damaging my tender skin; oh, the lessons we learn oven time!!
When Ma discovered how crucial it was to wear big shade hats, sunscreen, and long sleeved sun protection clothing, she became 100% committed to preventing sun damage. However, about 25-30 years later, she began to develop many pre-cancerous spots on her skin, and she was bedeviled with them the rest of her 93 1/2 years.....
The diminishing protective Ozone Layer surrounding our Planetary Home is contributing to the urgency of the situation. To quote from Wikipedia-- ''Effects of Ozone Layer Depletion on Humans---UVB (the higher energy UV radiation absorbed by ozone) is generally accepted to be a contributory factor to skin cancer. In addition, increased surface UV leads to increased tropospheric ozone, which is a health risk to humans. The increased surface UV also represents an increase in the vitamin D synthetic capacity of the sunlight.The cancer preventive effects of vitamin D represent a possible beneficial effect of ozone depletion.In terms of health costs, the possible benefits of increased UV irradiance may outweigh the burden.''
WHEW!!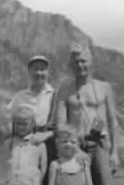 Our family hiking in the Colorado Mountains. No Hats (but hurrah Ma, she's wearing a little cap!). No long sleeved shirts. Probably no sunblock. What's a Person To Do?? Never Fear,