Living Off The Grid
What An Adventure,
Having Fun with the Sun!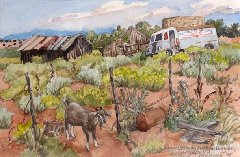 Nanny Goat & Sunshine Van by Lisa Bemis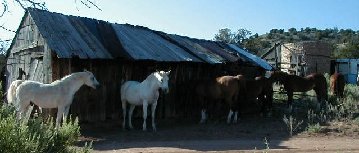 Off the grid living at Makarios Ranch began in the 1880s! Old barn, Old rock silo....26 feet deep and hand dug!
~~~~~~~~~~~~~~~~~~~~~~~~~~~~~~~~~~~~~~~~~~~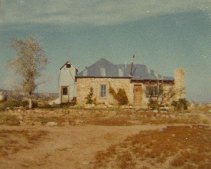 When I moved to Northern New Mexico in late 1971, little did I know the fabulous off the grid adventure in store for me! The old ranch, which dated back to the late 1800s, was over 4 miles from the nearest commercial electricity. I knew almost nothing about living without commercial utilities, but I LOVED the idea!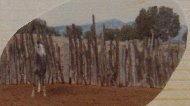 Wonderful old wooden corrals, and my Semilla tucked safely away; amazing that my sweet, slender half Arabian could be a cow pony!!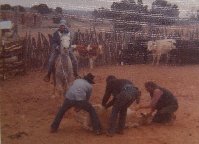 What the ranch did have was a 2,000 gallon propane tank, propane lights that had mantles similar to Coleman Lanterns, and a big propane generator. I'd pull the light chain in the kitchen, and the generator would start (most of the time, LOL!!). Viola, Electricity! The refrigerator was propane, the hot water heater was propane. And as I recall, propane cost about $.15 a gallon! Today? Nearly $3 per gallon....


Sometimes the Galisteo River Flooding would keep me home for days, or weeks, on end!! What power water has!


Energy Saving Tips that we learned from our life off the grid.
~~~~~~~~~~~~~~~~~~~~~~~~~~~~~~~~~~~~~~~~~~~~~
1973 -- one of my dearest childhood friends, Judy Kennedy Fosburgh, comes to visit me from Colorado Springs, bearing gifts of
biodegradable household cleaners
. Being nontoxic was always a great desire of mine, but the ''good'' cleaners did not work very well. WOW, did
THESE Green Clean
products work!!! I have been hooked on them ever since!! Personal responsibility for our planet is the message; off the grid and non toxic!
~~~~~~~~~~~~~~~~~~~~~~~~~~~~~~~~~~~~~~~~~~~~~~
Fast forward to 1975, the year I moved to my present home. At the time, there was only the remnants of the late 1800s wooden barn, hand dug rock silo, and adobe home. I could not tell where they got their power. The water was gravity fed from the spring 1,000 feet south of the water cistern. Off the grid living was not a new concept to these amazing pioneers!
I fell in love with the views from the water cistern, and dreamed and planned, and then built my home in and around the cistern. When I first moved to NM I bought Aladdin Lamps, which also had those great mantles which gave excellent light. It was fun for awhile, but the work involved keeping the wicks and chimneys clean, pouring in the kerosene, and in general using them took its toll.
About 1976, my friend Carmen and I decided to build a Solar Oven. Somewhere I have the photo and plans, but have not been able to locate them yet. But here is a photo of one very similar....

We both built one, and experimented with all sorts of food. Not something we used on a continual basis, but we did cook as often as possible in our funny little ovens!!
Here is a great website for building your own Solar Oven, dozens of designs from which to choose!





1979 --- I purchase my first Photovoltaic Panels,
a Red Letter Day!!
In 1978, a friend who was also living off the grid, bought a few 35 watt Photovoltaic panels. He said it was easy to install 12 volts (he was an auto mechanic), so I got a book about it and decided I, too, could have my own Electricity!!!!
YUP, two used Arco Photovoltaic panels, 35 watts each, 2 12 volt car batteries, the wire, and I was in business! The RV supply store had plenty of 12 volt light bulbs, 5W, 10W, 15W, 25W, and higher. I soon learned that anything higher than 50W would drain my little system too fast, so i installed mainly 5 and 10 watts.
I don't remember the exact year, but i think it was the mid-1980s when halogen bulbs became readily available. HURRAH, bright light from 12 volts and low wattage! It was around this time that I bought my first INVERTER to make 110 volt electricity from 12 volts, what a concept --- I immediately got my blender out of storage!! OFF THE GRID LIVING was suddenly taking on a whole new aspect!!
My darling hubby Tom will be writing some great articles here soon; when he was a kid, one of his favorite books was FUN WITH THE SUN. He is Jack Of All Trades, Master Of MANY, and solar heat and electricity are two of his faves!!!
Off the grid living? BOY, have we come a long way baby!!!!
You will love this story if you have not seen it yet..... this was on BBC news Feb. 2008--- here are a couple of quotes from the article...
The tiny Hebridean island of Eigg has never had a central grid supply of electricity, relying on micro-generators to power its crofthouses and small businesses. For the first time, the tiny island with fewer than 100 residents will receive electricity on Friday.
A combined hydro-electric, wind and solar powered system will supply continuous power to the light bulbs, computers and washing machines of the island's 71 properties via a six-mile network of cables.
Read complete BBC article HERE.

~~~~~~~~~~~~~~~~~~~~~~~~~~~~~~~~~~~~~~~

What a FABULOUS Idea, the
Square Foot Garden!!!
~~~~~~~~~~~~~~~~~~~~~~~~~~~~~~~~~~~~~~
~~~~~~~~~~~~~~~~~~~~~~~~~~~~~~~~~~~~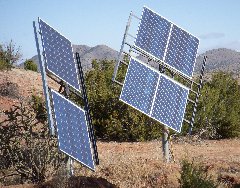 Our new set of 200 watt panels, on the old Zomeworks Trackers, off the grid boosters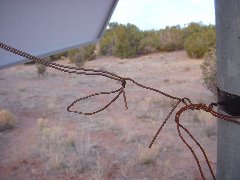 Since we don't yet have a Wattsun Tracker, I ''invented'' a way to turn the Zomeworks Tracker which is only single axis. I have baling wire wrapped around the tracker pole, with a hook in the end. Then I tied baling wire on the tracker itself. In the mornings, I can hook the tracker to the pole--I try to hook it about 3/4 of the way toward early morning sun; when the tracker turns more fully toward the early morning sun, the baling wire hook releases so that it can properly track all day long. Off the grid takes just a little extra care.....

Fabulous Tracker Photos on this link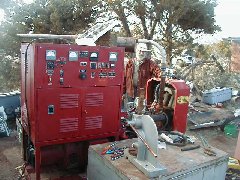 Tom and BIG RED, slow, powerful generator that was once in a Colorado dairy....






Larry Hagman owns nation's largest residential
solar-powered system
I have known Larry Hagman and his family since 1981, and am so proud of him for GOING SOLAR!! And WIND, etc etc etc!!!! His fabulous website has lots of great information! They can be off the grid, or can add their extra to the grid!!
Read all about Larry Hagman's quest to share his knowledge and enthusiasm with the world!!
CONGRADS to Larry for helping those less fortunate.... he is putting his money where his mouth is!!! The following is just a small part of the complete press release that you can read on the website.......
Larry purchased his first array from BP Solar in 2003, becoming an active participant in BP's Solar Neighbors program.
"Solar Neighbors utilizes celebrity activists who are leading by example to promote social change through solar power," explains Todd Foley, Director of Business Development for BP Solar. "When a participating celebrity purchases a BP solar system for their home, we donate a similar system to a low-income family to offset electricity costs." Next best thing to living off the grid!!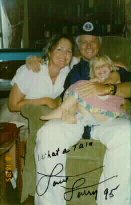 In 2004, six Los Angeles families received 3 kW solar systems at no cost in Larry's name.

Here is more exciting news about Solar Neighbors on the BP website; Join The Cause!!!!!


Annie Larry Kaya




~~~~~~~~~~~~~~~~~~~~~~~~~~~~~~~~~~~~~~~~~~~~~~~~~~~
Go Green Solar Energy explains all the different usages of residential solar power both passive and direct. Find out about solar energy history and how this marvelous energy source was first discovered.
~~~~~~~~~~~~~~~~~~~~~~~~~~~~~~~~~~~~~~~~~~~~~~~

Al Gore's --and MY--Challenge to REPOWER America!!

7/17---the birth of our first granddaughter, Amalia Sparhawk, and A Generational Challenge to Repower America, July 17, 2008 2:52 PM
Since 1973 I have had the Blessing and Privilege of living off grid, and what a GREAT thing to have Al Gore's speech yesterday... you can read and hear Al Gore's Energy Challenge here on NPR, or on his website, Al Gore!

~~~~~~~~~~~~~~~~~~~~~~~~~~~~~~~~~~~~
Do-it-yourself Energy Efficient Home Improvement Projects Made Easy!/
Link to a terrific blog:
News and stories on making your home more energy efficient.
~~~~~~~~~~~~~~~~~~~~~~~~~~~~~~~~~~~~~~~~~~~


GREAT new technology..... Evacuated Tubes for heating water ---- for domestic use, for Radiant Floors, for anything that needs hot water.
What is an evacuated heat tube you ask?? It's an advanced off the grid hot water system that is super efficient, and gorgeous to look at!
The heat pipe evacuated tube system consists of the glass evacuated tube and a copper heat pipe which is installed within the glass tube. The copper heat pipe conducts from within the evacuated tube to its tip (condenser) which is plugged into the header pipe contained in the manifold. As water runs through the header pipe heat is transferred from the heat pipe condenser to the water. Collector conversion efficiency at 72% in full bright sunlight regardless of wind or freezing temperatures.
And this gorgeous, amazing tube ALSO collects heat just as soon as the sun hits it; being ROUND, the sun can work on all sides, all day long! Similar to what the Tracker does for the Photovoltaics, keeping them aimed toward the Glorious Sun all day!
Tom helped our neighbor installed a system, and what they found out in the spring was quite amazing! The sun, so much farther north now, was hitting the Tubes from the back side; but the small photovoltaic panel that runs the pump faces south. The tubes got too hot before the pump started. So Tom and Boyd built a terrific ''triangle'' of two panels that face both east and west, thus giving the pump its electricity all day long! Off the grid electricity and water combined!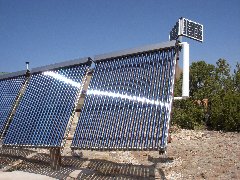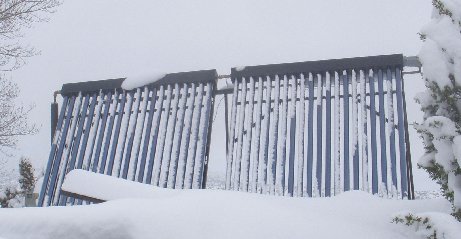 Even with Snow on the tubes, and fairly thick clouds, these great tubes made 140 degree heat---HURRAH!!!!!!!!!!
~~~~~~~~~~~~~~~~~~~~~~~~~~~~~~~~~~~~~~~~~



AMAZING OLD but NEW ELECTRICITY TECHNOLOGY
Solar Concentratorscould possibly solve ALL THE PLANET's Electricity needs!!! We live off the grid with photovoltaics, but one of the most promising technologies is the Solar Tower --- it's an old technology, but recently being looked at again.
In the late 1970s, a competition was held by DoE to obtain the best heliostat design for the project...
Solar One was a pilot solar-thermal project built in the Mojave Desert just east of Barstow, CA.
LO AND BEHOLD..... my original ARCO PV panels, which were slightly colored and marked ''rejected'' on the back, were most likely from a disassembled Solar Tower project in Carrizozo, NM...
''This design uses lots of huge, flat, movable mirrors (heliostats) that track the sun, converging its rays at a solar collector at the top of the tower.
Think of how the neighbor kid zaps bugs with his magnifying glass (I just know you and yours wouldn't do this yourselves…), and you'll get a bit of an idea how it works.
The intense heat, up to and over 400′C (750′F) at the top, boils water, with the resulting steam blasted into turbines which generate, in the case of the Seville tower, 11MW of electricity - enough to power 6,000 homes, and saving about 18,000 tons of carbon emissions every year.''
(text from the fabulous Celsias website!!)
On-grid folks can start helping the Planet just like Off The Grid folks!!

~~~~~~~~~~~~~~~~~~~~~~~~~~~~~~~~~~~~~~~~~~

Visit Susan and her family, who are doing their part to help their family and our planet, off the grid, homesteading, organic gardening!!


~~~~~~~~~~~~~~~~~~~~~~~~~~~~~~~~~~
See this page on Squidoo!
~~~~~~~~~~~~~~~~~~~~~~~~~~~~~~~~~~~~~~~~~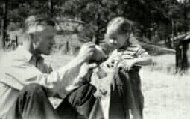 CONTACT ME HERE
We Share This Great Passion, Please Share Your Green Story!
Most everyone is concerned about our part in helping the Environment and our Great Planet. Please share your comments, questions, tips, stories!!!!!
What Other Visitors Have Said
Click below to see contributions from other visitors to this page...