Equine Melanoma -- Very Few Solutions
But Take Heart, New Treatments Are On The Horizon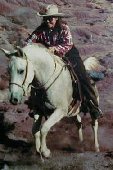 Proud to be a Shaklee Independent Distributor since 1973! Decades of Great Health for all, including Planet Earth!
The Shaklee Product Philosophy:
ALWAYS SAFE, ALWAYS WORKS, ALWAYS GREEN
Equine Melanoma has haunted horse owners for centuries, and there has never been a true and total cure. Thankfully, they are usually very slow growing and usually not fatal, or not so for many many years..... diligent horse care can certainly keep them from growing too fast!
Here Whinny and I gallop up the famous Blue Hill at Ghost Ranch, Abiquiu NM, one time home of painter Georgia O'Keeffe.......

~~~~~~~~~~~~~~~~~~~~~~~~~~~~~~~~~~~~~~~~~~~~~~~~~
Clicking the link gives Tips for Prevention and ''Cure'' of Equine Colic. This method has given us 99.999% success since 1976.
We also use a great
Non Toxic Fly Spray
, healthy to horses, humans, and the planet!
~~~~~~~~~~~~~~~~~~~~~~~~~~~~~~~~~~~~~~~~~~~~~~~~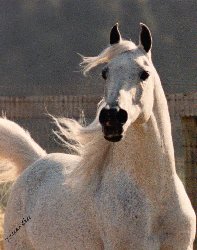 My beloved purebred Arabian gelding Wintersett, born in 1985, son of the famous
Gdansk
, began developing melanomas when he was about 10. Sadly, he died Nov. 21, 2009~ so thankful for his very long life, much longer than melanoma horses usually live!!! I have had many white Arabians and part Arabians over the years, and never has one developed melanomas.
Photo of Gdansk in his prime!
Whinny has been getting an acupuncture treatment from the Veterinarians at Interlaken Vet. Center in Waconia MN. These treatments have helped quite a bit, as well as the
Immune System Boosting Supplement
he eats every day.

The following YouTube shows some of the acupuncture treatment....
Whinny's Equine Melanoma Acupuncture Treatment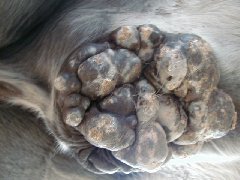 Whinny's tear ducts and sheath have melanoma, but also some under his tail and a couple on his body.....
---
Can Resveratrol Inhibit Melanoma Growth?
There are nearly 3000 studies showing the benefits of Resveratrol on many aspects of health, including many studies with cancer patients.
There are almost no studies on equine melanomas and Resveratrol, but I certainly am going to be doing ''experiments'' of my own with a new resveratrol tonic!
I am assuming that it will be many weeks before I start seeing any results; humans are reporting the beginnings of results after only 14 days, but I am not expecting this in Whinny, tho I am open to surprises!
Summer 2008, the melanoma on Whinny's back started pushing a bit on his spine, and when i rode him in august, his rear end went out with me and i have not ridden him since.... OH that we had the Resveratrol product a few years ago...... May 2009, the lump on the spine is much larger and Whinny is slowly losing his balance in his rear end. Mid April i pretty much gave up and stopped giving him the Tonic, and in less than a week he was suddenly MUCH worse. I put it back on the tonic so his decline is not as fast, but realistically i know that his melanomas were much too advanced before the wonderful Tonic was available....
Perhaps Whinny's story can encourage someone else to give it a try much earlier on. I'm sooooo thankful that i have had him for so much longer than most with his condition.....
One website concluded ---
These data suggest that resveratrol can inhibit tumor growth and can induce apoptosis via the intrinsic mitochondrial pathway and that by further increasing bioavailability of resveratrol the potency of the drug can be increased, leading to tumor regression. The nontoxic nature of the drug at levels needed for therapy make resveratrol an attractive candidate for the treatment of uveal melanoma.
---
Bioabsorbable Cisplatin Beads for Skin Cancers
Skin cancers are seen in horses, and many methods and technologies have been used to treat them. One of the more recent strategies is intralesional chemotherapy, or placing a chemotherapeutic agent directly in the tumor to kill the abnormal cells. At the 2007 American Association of Equine Practitioners Convention, held Dec. 1-5 in Orlando, Fla., Christina Hewes, DVM, MS, Dipl. ACVS, a practitioner in Alamo, Calif., discussed the newest twist on this approach--placing bioabsorbable beads of the chemotherapeutic agent cisplatin in a tumor for a slow release of chemotherapy.

Use of cisplatin beads and some results.......
And for more details, Matrix III Cisplatin Beads
---
---