Pet Care For All Sorts of Critters
You are invited to be part of our open forum!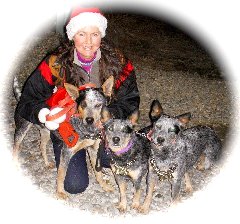 Proud to be a Shaklee Independent Distributor since 1973! Decades of Great Health for all, including Planet Earth!
The Shaklee Product Philosophy:
ALWAYS SAFE, ALWAYS WORKS, ALWAYS GREEN
This page is dedicated to Pet Care from everyone out in the Field! For years we enjoyed Ginny and Betsy's Healthy Pets book, but it is no longer going to be published.......

I have personally used all our great products for over 30 years to help our own pets and livestock be healthier and happier, and live long lives!!! Let's do this together!
PHOTO
Annie, Patterson, Zahdy, & Toomba, Christmas Parade 2007, Madrid NM
~~~~~~~~~~~~~~~~~~~~~~~~~~~~~~~~~~~~~~~~~~~~~~~
Did you know that many pets become very sick when they live in homes using household cleaners that may contain harmful chemicals? Even washing their bedding in laundry 'soaps' can cause them to have symptoms of allergies and arthritis. Many people have reported that their beloved dogs and cats have become Healthy within days of switching to Get Clean Get Green products!!!!
---
DISCLAIMER---These statements are our PERSONAL experiences only. They are anecdotal in nature and might not work for everyone. I have had pets all my life, and have learned to see the signs of illness stresses very early on. Perhaps we are successful because we immediately jump into action.
**anecdotal --- –adjective Based on personal observation, case study reports, or random investigations rather than systematic scientific evaluation: anecdotal evidence. Based on casual observations or indications rather than rigorous or scientific analysis. from Dictionary.com
The following testimonials and statements have not been evaluated by the Food and Drug Administration. These products are not intended to diagnose, treat, cure, or prevent any disease. NOT endorsed by Shaklee Corp.
---
~~~~~~~~~~~~~~~~~~~~~~~~~~~~~~~~~~~~~~~~~~~~~~~~~

Read Great Pet Health Stories At The End of This Page, Below the Submission Form
~~~~~~~~~~~~~~~~~~~~~~~~~~~~~~~~~~~~~~~~~~~~~~~~~
For all you new visitors to this site, I know you will find a huge resource for answering all your questions about caring for your own pets with all natural, non toxic products! Feel free to ask questions and post comments at the forum on the bottom of this page!
GREAT NEWS is that here on this page is a COMMENT form for Pet Health and Pet Care. Anyone can enter a Title---which, BTW, will become it's own unique URL--- and then comment away! Invite all your friends to comment as well, either on the Title you have created, or on one they create.......
REMEMBER, when you send your Healthy Pet Story to your friends and members, be sure to include your PWS at the beginning of the letter. This way non-members can go to your PWS for ordering and joining!
You can use the actual name of the product when you do your page, and when I ''publish it'' I'll put in the link to the home office site. There, your members will be directed to log into their personal .net/member site for details and ordering.
New people can look at the products, and either purchase at retail (there is a ''referral'' option, so be sure to include your ID in the letter you send them), or join; there is a ''sponsor lookup'' button. Home Team has made it really easy for everyone!!!
HAVE A GREAT PET CARE DAY!!! annie

~~~~~~~~~~~~~~~~~~~~~~~~~~~~~~~~~~~~~~~~~~~
Try these healthy Homemade Dog Treats; make them as organic as you want, as thick or thin, big or small!!
~~~~~~~~~~~~~~~~~~~~~~~~~~~~~~~~~~~~~~~~~~~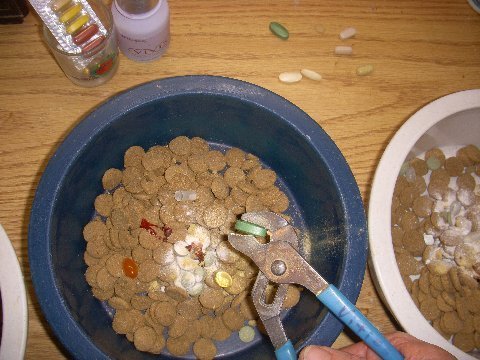 I have tried just about all the methods for grinding the tablets for the critters to eat with their food; food mill, coffee grinder, coffee mill, mortar & pestle, rolling pin...... so far the simplest and easiest has been a small channel-lock pliers, upon which i have written ''vities'' so my hubby does not use them for some gross project, LOL!!!
Gel caps they love to eat whole, and the capsules I open and pour over their food. The hard shelled tablets are squashed with my pliers! Soft tabs, ie. alfalfa, they eat whole. The Super Tonic i just pour on too; even the horses eat their food right up with it drizzled on top, never once a sour face!
~~~~~~~~~~~~~~~~~~~~~~~~~~~~~~~~~~~~~~~~~~~
Speaking of AMAZING pets, here is a treat...one of THE best Doggie Dancing Dressage I have ever seen --- ENJOY!!!!

~~~~~~~~~~~~~~~~~~~~~~~~~~~~~~~~~~~~~~~~~~~
WOW, who ever thought a mouse could do agility? GREAT video of Mouse Agility, starring Brain Storm the amazing mouse!
~~~~~~~~~~~~~~~~~~~~~~~~~~~~~~~~~~



Here a am, Reining on Rhett, my bestest sweet horse, a Real Pet Care Project, who has benefited from supplements BIG time!!!

~~~~~~~~~~~~~~~~~~~~~~~~~~~~~~~~~~~~
Bailey the Unknown Reindeer
Ward, Colorado (8,700' elevation) during a blizzard in the late 1990's. Dogs love playing in deep snow, and Bailey sure showed how it's done! This youtube has nearly 4 million views so far, Go Bailey!!

~~~~~~~~~~~~~~~~~~~~~~~~~~~~~~~~~~~~~~~~~
And from my friend Suzanne, her great website--- Pets Are Cool -- An information Site for the Pet Lover ! Includes Dogs, Horses, Cats, Birds, Pet Blog, Pet Tips and more.
~~~~~~~~~~~~~~~~~~~~~~~~~~~~~~~~~~~~~~~~~~~~~~~
Buy, or read online, the EXCELLENT Petroglyphs Magazine
~~~~~~~~~~~~~~~~~~~~~~~~~~~~~~~~~~~~~~~~~~~~~~~

Read Great Pet Health Stories At The End of This Page, Below the Submission Form
Pet Care For All Sorts of Critters
This page is dedicated to Pet Care from everyone out in the Field! SHARE WITH US!!!
What Other Visitors Have Said
Click below to see contributions from other visitors to this page...