Doggie Care and Cleaning
by Tonie Batson
(Mesa, Az)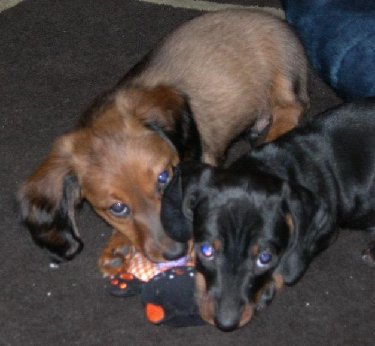 Ceasar & Brutis
Many people have lots of trouble with their dogs skin and coats when the weather cools off. Spending lots of money on either specialized shampoos or grooming bills. I have one piece of advise. This excellent organic cleaner.

I have used it for years to wash my dogs in. It is all natural, doesn't hurt them, dry out the skin, and it is super concentrated so that the bottle that costs under $10 will last you for a long time. ( The added extra is that you use this as you all over house cleaner) My 2 dauchies smell and look so good after their baths with the organic cleaner. I also put a drop in their water container.

Trust me on this one, you won't be sorry. Oh by the way, the product has a money-back guarantee that you won't find on most products.
Join in and write your own page! It's easy to do. How? Simply click here to return to Pet Care.