Horse Colic -- My Personal Experiences
Proud to be a Shaklee Independent Distributor since 1973! Decades of Great Health for all, including Planet Earth!
The Shaklee Product Philosophy:
ALWAYS SAFE, ALWAYS WORKS, ALWAYS GREEN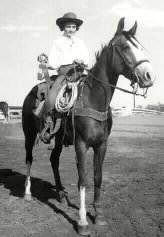 Dreaded
horse colic
has hit home many times in my life. My beloved childhood horse died of colic---I did not know how to help her, and the veterinarian to whom I took her could not help either. All the tubing etc. was futile, and eventually she died....
Clicking the link gives Tips for Prevention and ''Aid'' of Equine Colic. This method has given us 99.999% success since 1976.
---
DISCLAIMER---These statements are my PERSONAL experiences only. They are anecdotal in nature and might not work for everyone. I have had horses all my life, and have learned to see the signs of colic, or other stresses, very early on. I immediately jump into action.
**anecdotal --- –adjective Based on personal observation, case study reports, or random investigations rather than systematic scientific evaluation: anecdotal evidence. Based on casual observations or indications rather than rigorous or scientific analysis. from Dictionary.com
---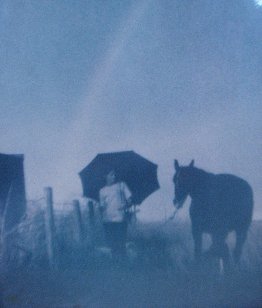 Annie walking Zahdy, who is colicing.... Waverly, Colo. 1968
(photo used at Double Rainbow Cafe, Ft.Collins, Co.)
~~~~~~~~~~~~~~~~~~~
I first heard about this from a man who came to me in 1977 wanting 20 cases of Herbs; I had only known them to be for humans---he's telling me it's fabulous for horse colic. It was a God-send hearing what he had to say!
His dad had a feed lot, and he was amazed that I didn't know about it's benefits on colic and scours (deadly diarrhea in calves, foals, and lambs.........). I was sorry i hadn't known about it a few years earlier, I might have been able to save Zahdy's life....
HERBs CAN PREVENT AND 'CURE' COLIC!! I have used Herbs for over 31 years and, to date, have not lost one horse to colic. Colic is the #1 killer of horses. There are many things that bring it on, and I can't say that it helps all kinds of colic, but I can say that the kinds of colic I have experienced is HAS helped!!! And dozens of my horse friends use it with great success too. The horse digestive system is truly unique, and, sadly, prone to colicky issues.
Some are a little afraid and end up calling the vet anyway, but the only time I called the vet, for a friend, in a VERY bad case of horse colic, the vet got lost and the horse was 100% fine by the time he finally showed. Some vets are still skeptical, others are very excited about the prospects........
Complete details about my Equine Colic Hints and experiences, and what I do are contained in the link above.....
These statements have not been evaluated by the Food and Drug Administration. These products are not intended to diagnose, treat, cure, or prevent any disease.
A PERSONAL THANK YOU!!
I want to personally thank Roger Barnett, the CEO of the wonderful company that makes these amazing herbs! The combination was originally formulated by Dr. Forrest C. Shaklee Sr. One of the ingredients is Culvers Root. When Roger first took over the reins, there was a shortage of high-quality culvers root, and the decision was made to eliminate it from the original formula. I did a LOT of research to see what could be it's specific role in Horse Colic Prevention and Cure. For nearly 30 years my beloved herbs had done their ''magic,'' and I did not want that to change. I wrote Roger and told him my horse colic story. About a week later, he responded that he had sent one of the company's biggie scientists to search out a good source of culvers root, had found one, and assured me the original formula would be preserved!!!
THANK YOU ROGER!!! Not only for helping in this one little area, but for being the kind of amazing human being who would listen to one individual with a serious concern, address that concern, and come up with a solution!! This goes for ALL of the products; the Home Office listens intently to the Field; always has, and surely always will!! The original Father/Sons Founders had this same caring and concern, and we are SO THANKFUL that the new CEO has this SAME HEART!!
For tips on getting those liquids down a horse, please read my wikiHow Page.





~~~~~~~~~~~~~~~~~~~~~~~~~~~~~~~~~~~
If you would like to know about each of these amazing herbs that have helped our horse colic, the cleansing herbs page has all the details!!
~~~~~~~~~~~~~~~~~~~~~~~~~~~~~~~~~~~



CONTACT ME HERE
riding with Susie, Lana, & Kristen


---
Please Share Your Special Colic Stories With Us........
I know the pain of our Beloved's Colic, and the Joy of their Cure.... if you have any questions, stories, or comments, please leave them here.
What Other Visitors Have Said
Click below to see contributions from other visitors to this page...

A real nightmare Not rated yet
It is almost 2 in the morning, and I still can't sleep. I lost my Angel almost two weeks ago, and the nightmare of this healthy 20 year old Mare, whom …