YUMMY HEALTHY RECIPES
This page is dedicated to great healthy recipes, both my favorites, and favorites of friends out there in Cyberspace! I prefer to use all Certified Organic ingredients, but often one has to use conventional ingredients. Whatever you prefer, here are some great recipes I know you'll love!!



SILICONE BAKING CUPS
This has to be one of the MOST amazing inventions for bakers! Reusable cups make fabulous Cupcakes and Muffins, and they easily wash and store. Silicone Muffin Cups are a must for any person with a kitchen!!



Pomegranate Pudding

Well, not exactly a ''recipe,'' but delicious and VERY great for health, as well as weigh & inch loss!!!! If you love pudding with a zing, this pomegranate pudding might be for you!!!



SIX WEEK BRAN MUFFINS
Six Week Bran Muffins are so easy to make, are so delicious, and the batter keeps for a minimum of six weeks in the fridge. Bake one or two for breakfast, or bake an entire batch for a party!
---
Moist Dark Chocolate Cake
OK, so maybe you think chocolate is not all that healthy..... Well, thankfully, many studies have shown than eating Dark Chocolate can actually be Healthy!!!!
Antioxidants in Dark Chocolate can gobble up free radicals, destructive molecules that are implicated in heart disease and other ailments. Dark chocolate -- not white chocolate -- lowers high blood pressure.
MODERATION is the key.... 1-2 oz. of dark chocolate a day can have great benefits, not to mention the LIFT in ones spirits! Go Endorphins, Go!!!!
1966, Colorado State University. Cynthia makes the best chocolate cake anyone has ever eaten. Never since then have any of us had such a moist, delicious, perfect-every-time cake!
1976, Chiang Mai, Thailand. A friend's uncle shares his amazing chocolate frosting, made with Eagle Brand milk; seems the USA military brought Eagle milk with them, and the Thai folks fell in love with it. Ever have Thai Iced Coffee? When you are ready, here's the recipe I put on wikiHow to make the Moist Dark Chocolate Cake.
---
French Silk Pie
Ok, Dark Chocolate Fans, here's another favorite.... In the 1940s & 50s, The Craftwood Inn, Manitou Springs, Co, was famous for it's French Silk Pie. The recipe was ''top secret'' and never given out, but one determined Colo. Spgs. woman experimented for over a year until she made a pie that exactly matched. She promptly gave the recipe to all of her friends to enjoy.
Here's the recipe and instructions from my wikiHow page, How To Make French Silk Pie.
---
Buffalo: The Natural & Healthy Choice
Monte and Lana of LaMonte Buffalo have put together same fabulous recipes for their Heart Healthy Bison Meat; I know you will love trying these Terrific recipes for JEAN SKRAK BUFFALO FLANK STEAK MARINADE, JALAPEÑO BUFFALO BURGERS, BUFFALO CAMP POT ROAST, and HEART HEALTHY BUFFALO STEW!!
---
Quite a long time ago I discovered the Fabulous Vidalia Onion Vinaigrette, which is amazing on salads, rice, potatoes, pasta, grilled halibut, chicken, pork steaks, and just about anything you can think of! A yummy Must-Try!!!!


Marion has a great Fat-Free Recipe webpage, enjoy her YUMMY goodies!!



---
I look forward to trying some of YOUR favorite recipes!!! PLEASE FILL IN THE FORM at the bottom of this page.

---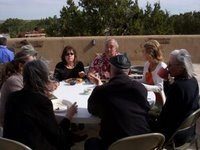 CONTACT ME HERE



Photo of a great time being had at our monthly Breakfast Club, started nearly 20 years ago! Even the 4 foot snowstorm of Dec.2006 did not stop us!

---
YUM! Great Recipes, Great Friends, Great Fun!
Please share your special recipes with us!
What Other Visitors Have Said
Click below to see contributions from other visitors to this page...