Why We Live Here
Tales of Breakfast Club Peeps
Unfolding the Mystery of the Move to
New Mexico
---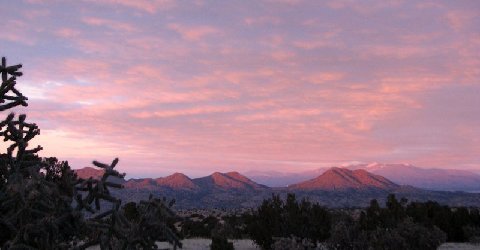 Sunset photo taken by Diane Senior {Jan. 2012}
The Cerrillos Hills
{Chollas in the foreground}
Alpen Glow on the Sangre de Cristos
---
---
And how did each of us come to live in our most wonderful, blessed neighborhood? And how did we discover that the Degrees of Separation are NOT 7, but more like 1 or 2!!
To all our Bfast Club Family, i invite you to reminisce a bit, write as much or as little as you want, and include any photo you would like! i can EDIT your story at any time in the future, you would just send an email with any additions, deletions, etc.
HERE IS WHAT YOU DO ~ fill in the form at the bottom of this page; BE CREATIVE WITH YOUR TITLE!! It will turn into its own UNIQUE WEBSITE URL, which you can send to anyone you would like.
i so look forward to reading your stories and seeing your photos!!!
The LORD's great Blessings on each of you, my cherished Bfast Club family!!!
Ciao For Now! annie, your newsletter moderator, your blog administrator, your website founder, and your greatest fan!!!
Breakfast Club ~ You Can Have One Too!!
---
Have A Great Story About YOUR Bfast Club?
Please share your stories here!!