Cottage Cheese Pancakes or Waffles
by Annie
(New Mexico)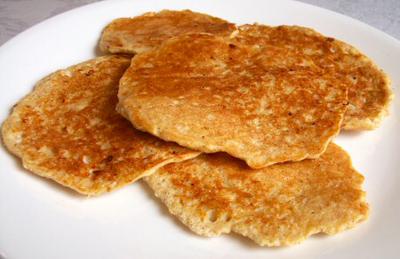 Cottage Cheese Pancakes
This recipe was found in the drawer at the old ranch when I first moved to NM in 1971. Mrs. Keith must have left it on purpose! They are THE best pancakes!!!

4 eggs, separated (this step is optional)
1 cup cottage cheese
1/2 cup flour - any type that you like
(Substitute 1/4 cup Shaklee Protein Powder for some extra nutrition!)
3-6 tablespoons melted butter

Beat well--yolks, cottage cheese, and butter. Beat the egg whites till fluffy and stiff. Blend into the yolk mix, cautious not to over-stir.

OPTIONAL - just beat everything together, they are still fluffy and fabulous!!

FOR WAFFLES - add a little more flour if you want them to be a bit denser.

Spoon onto hot greased griddle. When little bubbles form on the top, turn them over.

Serve with genuine maple syrup or agave nectar.