Easy Sweet Potato Waffles, Simple With Leftovers
by Annie
(New Mexico )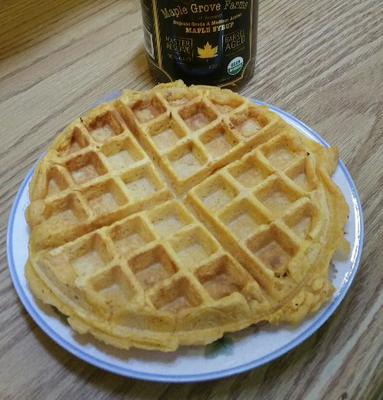 easy sweet potato waffle made with leftovers
Ingredients

leftover sweet potatoes
yogurt
salt
flour
butter
eggs
optional milk

mash your sweet potatoes, and add plain yogurt that is equal to half of the amount of your sweet potatoes. Beat in two or three eggs, depending on how many potatoes you have, some salt to taste, one-fourth to one half cup melted real butter, and add flour, equal to the amount of sweet potatoes. I used organic white flour, but you can use any kind of flower that you would like. If, when you have the completed mixture, it seems a little too thick then add some milk until you get a nice consistency, not too runny. if you have one of the modern waffle irons which has a no stick surface, simply pour the batter on to the waffle iron and cook until done.
Join in and write your own page! It's easy to do. How? Simply click here to return to Recipes.