Hollywood Two Tone Cheesecake
by Annie
(New Mexico)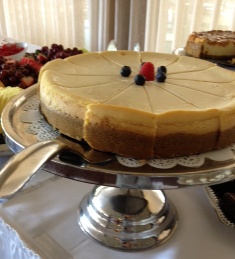 Hollywood 2-Tone Cheesecake
First found in an old cookbook, sometime in the 1940s or 50s, but i learned it from my neighbor Steve :-)

CRUST:

1 1/4 c. graham cracker crumbs
1/4 c. sugar
1/4 c. melted butter

Combine graham cracker crumbs, sugar and melted butter and pat firmly into the bottom of a springform pan.

FILLING:

1 lb. Philadelphia cream cheese
1/2 c. sugar
1/2 c. eggs (2 lg.)
3/4 tsp. vanilla

Combine cream cheese, eggs, sugar and 3/4 teaspoons vanilla. Beat for 3 or 4 minutes until smooth. Pour on top of crust in springform. Bake at 375 degrees for 20 minutes. Let stand and cool for 20 minutes. Increase oven temperature to 475 degrees.

OPTIONAL ~ if you like cinnamon or cloves or nutmeg, you can generously sprinkle one, or a combo, over this first layer before adding the 2nd layer. Delicious WITHOUT the spices, but some like to add a little extra to theirs.

SECOND LAYER:

1 pt. sour cream (lg. container)
1/4 c. sugar
1 tsp. vanilla

Blend sour cream with 1/4 cup sugar and 1 teaspoon vanilla and pour onto cooled, baked cake. Spread evenly. Bake in 475F degree oven for 10 minutes. Remove from oven and let sit at room temperature for 5 to 6 hours. Store in refrigerator and serve the next day. Cover with waxed paper before putting into the refrigerator, careful not to let the waxed paper touch the topping.