Horse Joint Pain Greatly Reduced
by Annie
(New Mexico)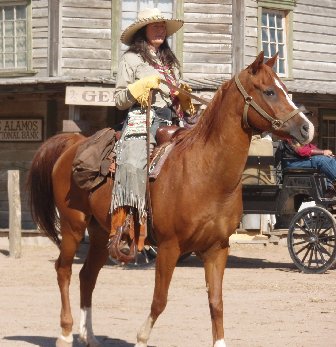 Annie & Rhett, 2008 48-hour movie project
My 3/4 Arabian gelding, Baskips Amarhett, Rhett for short, came to me just before his 5th bday. He was always a bit sore and took short steps, hind left leg..... As he got in better shape he seemed to be doing better, and I began reining with him. After each of our lessons, which were very vigorous, I have him a muscle recovery drink and that seemed to help a lot too. He advanced so well that he won the very first ''Green as Grass'' award for the New Mexico Reining Association, and the Non-Pro Trophy Saddle in 1993.

But before the International Arabian Championship Show in Albuquerque NM in 1993, his lameness returned. I took him to 4 different vets for opinions and treatments, and nothing seemed to help much, if at all. At the Arabian show i met Dr.Ralph Johnson, DVM who also did equine acupuncture; he had worked on a friend's horse while she was working at the McQuay Reining Stables and had fabulous results with her horse. It worked so well on Rhett that I cried for 2 days; people thought my horse had died rather than having a ''miraculous'' recovery!!!

In 1995, Rhett went Top 10 in Half Arabian reining, and had the 4th highest score for the entire show!

Rhett continued to have yearly or bi-yearly acupuncture treatments, which really helped keep his hips and stifles pain-free. I don't remember what year it was that joint complex was added to our product line, but as soon as it was, I began giving it to Rhett.

By the late 1990s, he started developing wind puffs on his hind legs, and the various treatments which were recommended by my veterinarians were not helping that much. We did wraps and anti-inflammatories and rubs; he was still hurting. One day the herd raced up to the house at full speed, and after that he was noticeably lame..... I was heartbroken.

I tried many natural joint supplements, Chinese herbs, formulas from this and that organic place online and thru my holistic vet.... I got a little help, but NOTHING like the Joint Complex...

This time I decided to try the joint complex that we humans and canines had been taking, and within 2 months I was able to ride him again, though only about once a week. However, after 6 months, he was so much better that i was riding him 2-3 times a week. Several of the horses take this same product; some will eat the capsule whole, others like Rhett need the cap opened and the powder stirred into the grain.

Today his wind puffs are quite small and pain free, and I can ride him as much a I want, and go as long as we want. The last time the acupuncture vet was here, Rhett had no pain in his joints at all---the first time in many years, Hallelujah!!

I am sooooooooooooo thankful for the wonderful ingredients in the joint complex and how well it works for Rhett, for the doggies, and for us!!!! Our ''collective'' joint pain is at a minimum!!

Clicking the link gives Tips for Prevention and ''Cure'' of Equine Colic. This method has given us 99.999% success since 1976.