Ma's Cheese Straws
by Annie
(New Mexico)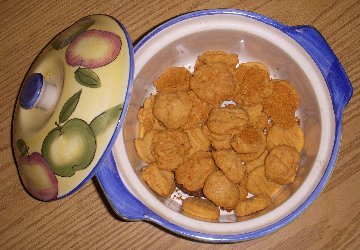 Ma's Cheese Straws -- Mis-shapen, LOL!
1 cube butter (8 T )
4 oz. soft sharp cheddar cheese
1 c. flour
1/4 t. salt
1/2 t. cayenne powder
1 t. Worcestershire sauce

Blend well and either press thru cookie press into '' straws'' or shape into balls or snakes, and press with fork dipped in flour.

Bake 300 degrees for 20-30 minutes

These great cheddar cheese treats are a fond childhood memory. I loved helping my Ma make them, and we loved eating them!!

They have a great spicy tang to them; should you want ''plain'' cheese straws, just eliminate the cayenne and Worcestershire--but then be sure to use really flavorful cheese.

Ma's favorite was the soft cheddar that comes in a big tub-- Black Diamond sharp cheddar.

For Gluten-Free Cheese Straws, just substitute Pamela's Baking Mix for the flour. Trader Joe's also has a great Gluten Free Baking Mix!!