A Great Palm Straw Hat Adds Extra Sunscreen Protection
My favorite palm straw hat is the tightly woven variety that is truly a sunscreen. Even though I use a Great Sunblock SPF 30 every day, the extra shade from a quality palm straw hat gives extra protection from those harmful UV rays.
I finally found a great place to get just the right hat, the right shape, the right price!!!!! A very nice gal named Loretta has an Ebay store , and also a nice online store.

I discovered that i needed a Stampede String UPGRADE from the horsehair that came with the hat; too many little broken hairs stuck me in the face. I love the leather one i ordered. You can email Loretta, afford @ texas.net, and she will send photos of all her stampede strings.
BTW, I made my own beaded hatband, and this is the 4th hat it has been on.
~~~~~~~~~~~~~~~~~~~~~~~~~~~~~~~~~~~~~~~~~~~~~~~~~
Clicking the link gives Tips for Prevention and ''Cure'' of Equine Colic. This method has given us 99.999% success since 1976.
We also use a great
Non Toxic Fly Spray
, healthy to horses, humans, and the planet!
~~~~~~~~~~~~~~~~~~~~~~~~~~~~~~~~~~~~~~~~~~~~~~~~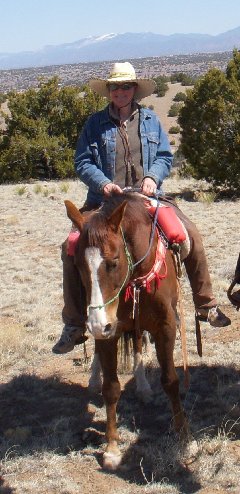 ---
Questions about what size hat will fit the best? Bill has a terrific section on hats, and How To Size A Hat, on his great website, ''your guide to gifts for horse lovers.''
Another great-looking sun hat is one i have not tried yet, but looks similar to some i have; i think it will be the next on my Sun Hat List!!