Ride the New Mexico countryside with Annie!
by Bob
(New Mexico)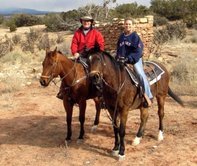 Bob & Jen on Sage & Lonesome
What a wonderful experience and truly enjoyable trail ride with excellent well trained horses Wild high country desert scenery.complete with hills, creeks, sage, arroyos and coyotes!! Very casual and enjoyable ride as Annie is a local "personality" and keeps the ride going with interesting banter.

Annie also has Yaks, a mule, and other various animals she tends for as a refuge. A woman with a real "heart" and compassion for animals as well as humans. A visit to her ranch is always an interesting experience..

It is worth the drive and take 2-3 hour trail ride with Annie and then maybe a lunch at the local saloon after---

My daughter and I have enjoyed the rides for the past few years and highly recommended a visit to Annie at the Markarios Ranch
Join in and write your own page! It's easy to do. How? Simply click here to return to Horses Are Our Life, Our Love, Our Spirit.