Simple Sesame Cookies
by Edith
(New Mexico)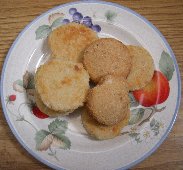 Simple Sesame Cookies
2 cups (1 lb.) butter, softened
1 1/2 cups granulated sugar
3 cups all-purpose flour
1 cup white sesame seeds
2 cups sweetened shredded coconut
1/2 cup finely chopped almonds

In a large bowl, cream butter with electric mixer. Gradually add sugar and beat until light and fluffy. Stir in flour until just combined. Stir in sesame seeds, coconut and almonds.

Divide dough into thirds. Place one third of dough on a long sheet of waxed paper or plastic wrap. Shape into a roll 2-inches in diameter. Repeat with remaining dough. Refrigerate for at least 2 hours.

Preheat oven to 300*F (150*C).

Cut dough into 1/4-inch thick slices. Place about 2-inches apart on ungreased baking sheets and bake for 12 to 14 minutes.

Transfer to wire racks to cool. Store in airtight container.

Makes about 4 dozen cookies.

For Gluten-Free Sesame Simples, just substitute Pamela's Baking Mix for the flour.
Join in and write your own page! It's easy to do. How? Simply click here to return to Recipes.