SWEDISH POTATO SALAD RECIPE
by Nancy
(New Mexico )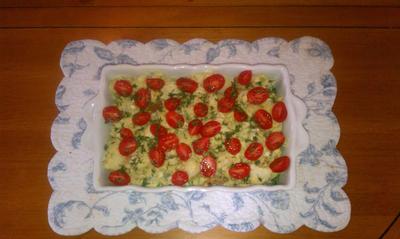 SWEDISH POTATO SALAD RECIPE
(As many organic ingredients as you can find!)
4 lbs. Russet potatoes
4 stalks celery - 1/4 inch sliced
1 medium yellow onion - diced
6 slices apple wood smoked bacon - baked and thickly cut when done
3 hard boiled eggs - sliced or chopped
1/2 cup fresh chopped herbs - flat leaf parsley, dill weed, oregano
cherry tomatoes and fresh thyme leaves to garnish top

Peel, cut, cube and boil potatoes with 3 hefty branches of dill weed, teaspoon of sea salt and teaspoon of chicken fat or olive oil.
UNDERCOOK potatoes, drain water and chill outside if possible to retain flavor. You can rinse under cold water, but you'll lose some of the flavor.

DRESSING:
3/4 cup Hellman's mayonnaise
1/4 cup country or deli-style mustard
1/8 cup Dijon mustard
1 teaspoon white vinegar
1/2 teaspoon sugar
1 teaspoon sea salt
1 teaspoon freshly ground black pepper
1/2 teaspoon white pepper
1 teaspoon bacon drippings
3/4 cup mixed fresh chopped herbs
1/2 teaspoon celery seed

When potatoes are fairly cool add dressing, celery, onion, bacon, hard boiled eggs and gently stir. Chill overnight. Garnish with cherry tomato halves and fresh thyme leaves.
Join in and write your own page! It's easy to do. How? Simply click here to return to Recipes.